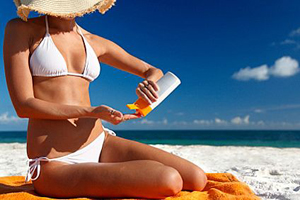 Sunscreen Tips and SPF
---
Medical Spa MA Boston & Brookline MA Blog
Sunscreen Tips and SPF
29 April 2013
Summer is right around the corner. Make sure you are prepared to keep your skin safe! Here is some information on sun block!
What is SPF?
Sun Protection Factor, or SPF, is determined experimentally indoors by exposing human subjects to a light spectrum meant to mimic the sun. Some subjects wear sunscreen and others do not. The amount of light that induces redness in sunscreen-protected skin, divided by the amount of light that induces redness in unprotected skin is the SPF. (A sunblock with an SPF of 15 will delay the onset of sunburn for an average person by 150 minutes).
What should I look for when buying a sun block?
SPF only refers to UVB rays, and UVA rays are just as dangerous. Make sure your sun block says "Broad Spectrum" on the bottle. This means it protects you from both types of UV rays. The best type of sun block is zinc oxide or titanium dioxide.
How much sun block should you apply?
About a shot glass size for your body and a teaspoon for your face. Make sure you apply it 30 minutes before going into the sun.
How often should you apply sun block?
Apply sun block every two hours when outside. If you are swimming or sweating, apply sun block more often, even if the bottle says "waterproof."
Is last year's sun block still good?
Sun block should be worn year round, but if you only use it seasonally, you should buy a new sun block bottle every year. Ingredients in products can break down, especially if they aren't stored properly.
---
Canton MA Office
2184 Washington St., Suite 4
Canton, MA 02021
Phone: 781-561-9257
Fax: 888-990-0423
Brookline MA Office
1340 Beacon Street
Brookline, MA 02446
Phone: 339-987-4699
Fax: 800-349-0811
Yes, I would like to receive latest news and special offers via email.