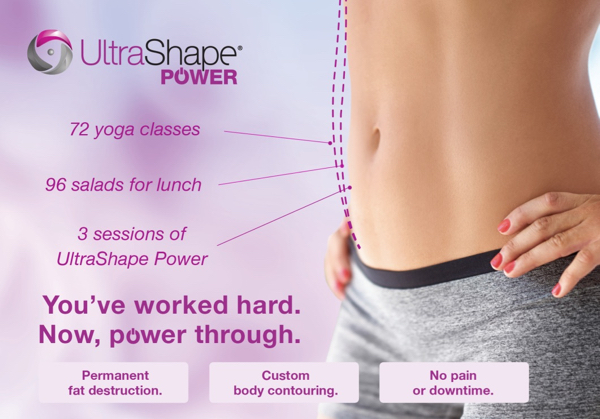 A Quick and Safe Way To Get Rid of Stubborn Fat
---
Medical Spa MA Boston & Brookline MA Blog
A Quick and Safe Way To Get Rid of Stubborn Fat
20 May 2021
Getting the body you want is more difficult than it sounds. Sure, diet and exercise work but that route isn't always easy. Even those who spend a lot of time in the gym can still get frustrated because it is hard to target specific areas of the body. This is where a non-invasive body shaping procedure called UltraShape Power can help.
If you are looking for an effective and non-invasive way to reduce the appearance of fat around the thighs, abdomen and stomach choose UltraShape Power. This is a non-invasive body shaping procedure that can help you lose weight in as little as three sessions. UltraShape uses focused ultrasound energy that destroys fat by targeting and breaking down deposits of fat without affecting surrounding tissues, nerves, arteries, and veins. UltraShape is nonsurgical, which means no incisions, no anesthetics and no recovery time!
At Dream Spa Medical we are very particular about the procedures that we administer and we highly recommend this to our clients. We chose UltraShape because we have seen great results first hand. But now with the UltraShape POWER, we are able to achieve 34% permanent fat reduction. UltraShape has the highest percentage for non-invasive fat reduction procedures on the market, even better than CoolSculpting which generally removes about 25-30% of fat in the treated area.
UltraShape is virtually painless and there is no discomfort during or after the treatment. UltraShape is also most effective in treating smaller, harder to reach areas. UltraShape POWER is now at Dream Spa Medical, and we could not be more thrilled with the results. Come in for your complimentary consultation with our body contouring experts today!
---
Canton MA Office
2184 Washington St., Suite 4
Canton, MA 02021
Phone: 781-561-9257
Fax: 888-990-0423
Brookline MA Office
1340 Beacon Street
Brookline, MA 02446
Phone: 339-987-4699
Fax: 800-349-0811
Yes, I would like to receive latest news and special offers via email.