PRE-TREATMENT
It is best to avoid the use of Aspirin, NSAIDS, Ginkgo Biloba, Garlic Supplements, Green Tea, Flax Oil, Cod Liver Oil, Vitamins A and E, and essential fatty acids for up to 1 week pre and post injection as they will increase your risk of bruising.

It is best to avoid alcoholic beverages 24 hours before or after your treatment as this will increase your risk of bruising.

You may take Arnica tablets 2-3 days prior to your injection to reduce the risk of bruising. Arnica may also be topically in the event of bruising

Inform your provider if you have a history of cold sores to receive advice on antiviral
therapy prior to treatment
We recommend you do not seek treatment if you are pregnant or breastfeeding or are allergic to any of
its ingredients.

If you have had dental work (including a cleaning) within the past two weeks, or are planning to within 2 weeks post your dermal filler treatment, we advise you to defer your treatment until the two week mark post your dental treatment.

It is best to postpone any and all vaccinations for two weeks before and after treatment

If you have had dermal fillers in or around the area to be treated, you must wait 2 months before

Sculptra® injections

If you are actively on any prescription antibiotics or steroids we ask that you wait two weeks to be treated upon completion of the medication course.

If you are feeling under the weather or are experiencing cold or flu-like symptoms it is best to wait until you have recovered fully to be treated.

It is advisable not to fly 1-2 weeks after the procedure due to swelling and altitude/air pressure changes. Flights less than 3 hours after 72 hours can be approved by the delegating NP.
POST-TREATMENT
Massage the areas for 5 minutes, 5 times a day, for 5 days after treatment. We refer to this as the "5-5-5" schedule. Direction and placement of massage is depicted in the illustration below: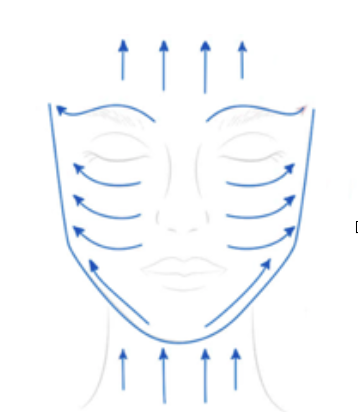 You may take Acetaminophen/Tylenol if you experience any mild tenderness/discomfort

After treatment there will be moderate swelling and redness with possibility of bruising.
These symptoms will resolve in about 7 days. You may apply or take Arnica tablets to
help decrease the amount of bruising and ice pack for swelling.

Avoid extended UV exposure until any redness/swelling has subsided. Apply SPF.

Avoid strenuous exercise for 24 hours to reduce bruising. You may resume other
normal activities/routines immediately

Avoid skincare, laser, IPL, or skin tightening treatments of the area for at least 2-3 weeks

You may continue your topical products as mentioned above 1 week after injection

Do not apply make-up over injection points until the day after the procedure. If you need to apply something for hydration to your lips then please use aquaphor/vaseline with a clean cotton tip.
FOLLOW-UP TREATMENT
Follow up treatments should be scheduled about every 4-6 weeks.

Although you will notice an instantaneous improvement, these are temporary results that will subside in about 24 hours. Visible, long lasting results may not be seen until the appropriate number of sessions have been completed. This varies from client to client and will be discussed with you by your provider before treatment begins.

Results can last more than two years but yearly maintenance is often recommended.

Sculptra® is a treatment designed to rebuild/replace lost collagen. Rarely, in some patients, too much collagen will form too quickly in one area. This will cause a little lump of collagen, which is referred to as a nodule or papule depending on the size. Most of these are very deep if they do occur and therefore are only palpable but not visible, and therefore not bothersome to patients. It is also important to note that since Sculptra is designed to go away over time, 95% of these tiny lumps also disappear over time with no treatment. It is critical that clients are compliant with the "5-5-5" massage schedule post-treatment as this significantly reduces the likelihood of nodule formation.
If you are experiencing any symptoms outside of the "Normal" range (those mentioned above) please reach out to Dream Spa Medical immediately so that we can work to remedy any and all issues or simply just be a listening ear to your questions and concerns to ensure that you feel comfortable. If you are experiencing an emergency outside of our open hours, please call our clinical emergency line at 781-222-0176.
Sculptra® is a very exciting and beautiful tool that we are able to use in order to enhance and restore your natural beauty. It is also a medical treatment that should be performed by an experienced practitioner. At Dream Spa Medical we believe that safety is of the utmost importance. For this reason we share these extremely rare but important instances to watch out for, post treatment. For two weeks following your treatment if you are experiencing any of the following, immediately reach out via any communication channel available and we will ensure that you are seen immediately:
Blanching of the skin in and around the treated area (white almost opaque or frosty patch(es)

on the skin)

Pain beyond the expected level discussed with your provider. Pain that comes and goes or subsides for periods of time is most likely normal. Constant throbbing pain in and around the treated area is abnormal and should be dealt with immediately.

A cold area that appears on your face post treatment or a constant tingling sensation.

A rash that appears in the treated area and is accompanied by pustules or dusky discoloration of the skin.

A fever and/or chills

Discolored blotches in areas that were not treated begin to develop in your skin.
At Dream Spa Medical we believe in having open communication and ensuring that your results are exactly as you and your provider expect them to be. For this reason we always schedule our patients that are either new to us or new to this injectable treatment with a 2 week in person follow up. This is a time for you and your provider to discuss your results, further treatment plans and/or questions. For subsequent treatments you and your provider may decide to opt for a phone follow up. Just a quick check in to make sure all is well. The exception to this would be if you and your provider have developed a routine treatment plan. In this case you will receive communication from Dream Spa Medical within 48 hours checking in on you. If at any point in time on your journey with us you would like to schedule a follow up or speak to your provider about your most recent treatment or progress we are happy to accomodate in person, virtually, by phone or email.
We are always here to ensure that you LOOK BETTER, FEEL BETTER!